Gift Shop
The Steamboat NATCHEZ Gift Shop offers a wide variety of items for steamboat enthusiasts. Many more items are available on board. At this time only Gift Certificates and limited items cann be purchased directly from this site through PayPal.
To order all other merchandise, please contact us at 1-800-233-2628, or email: giftshop@glnosc.com
All items include applicable shipping and taxes. Oversees shipping not available at this time.
| | |
| --- | --- |
| | Whether it is a harbor jazz cruise or a get-a-way dinner jazz cruise, a gift certificate for the Steamboat NATCHEZ is a great way to celebrate. Be sure to let us know if it is a special occasion, you want a special message to the recipient, or need it mailed to another address. Please allow a minimum of 48 hours processing (business days). Recipient can make their own reservation for the cruise date of their choice. The dollar value does not expire. |

Golf shirt in cotton pique. Embroidered NATCHEZ logo. Colors – Red, Navy, White.
Sizes Small - 3 XL.

13" x 13"
Single sided tapestry with black backing
Made in USA

50" x 68"
Tapestry throw
100% Dyed cotton
Made in USA

Child's short sleeve t-shirt with the NATCHEZ printed on the front. Colors – Teal or Ash. Sizes: 2/4, 6/8, 10/12, 14/16
and Adult Size S- XXXL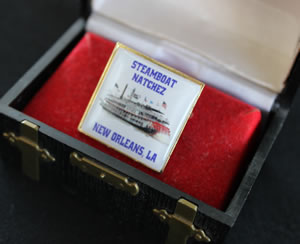 One of a kind, authentic NATCHEZ hat/lapel pin. Size of a quarter.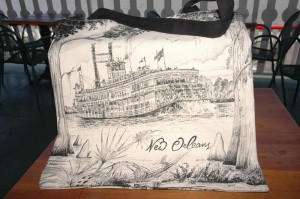 Charcoal black & white tote bag with the NATCHEZ among cypress trees and hanging moss. Dimensions: 17.5″x15″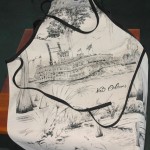 This apron's design is done in charcoal. It would make a unique addition to your kitchen.

Sailor Cap


Deluxe baseball caps with a relaxed fit and embroidered NATCHEZ logo.Colors – Green, Black, Navy, Khaki.


White Captain's hat with black bill.
Adult Size & Child Size

"Duke Heitger and the Steamboat Stompers" CD features over an hour of
jazz as performed daily on the
Steamboat NATCHEZ.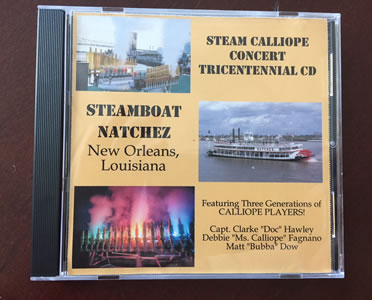 Featuring three generations of Calliope players, this CD was recorded live on the Steamboat NATCHEZ in New Orleans in 2017. Players include Capt. Clarke "Doc" Hawley, original Master of the Steamboat NATCHEZ, Debbie "Ms. Calliope" Fagnano the talented staff musician, and Matt "Bubba" Dow a third generation river man who began his calliope career in 2007. Song titles showcase tunes such as: Way Down Yonder in New Orleans; Calliope Rag; Louisiana Fairytale; and many more.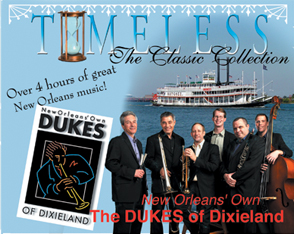 Dukes of Dixieland's "Timeless" The Classic Collection 4CD set.