Jazz Cruises
Let us take you back to when life was as graceful as the current on the mighty Mississippi River. Choose from any of our cruises, and you'll experience New Orleans as it can best be seen from the river …
Dinner Jazz Cruise
Savor the beauty and romance of the New Orleans skyline aboard the last authentic steamboat on the Mississippi River….the Steamboat NATCHEZ.
Highlights, schedule, pricing »
Harbor Jazz Cruise
Join us for our exciting new Casual Lunch, and enjoy a two-hour cruise by day from the heart of the New Orleans French Quarter aboard the Steamboat NATCHEZ – including Calliope concert!
Highlights, schedule, pricing »
Sunday Jazz Cruise with Optional Brunch
Welcome aboard the most unique blend of "real New Orleans", combining a two hour cruise on the iconic Steamboat NATCHEZ, with traditional live jazz, and a mouth-watering New Orleans Brunch.
Highlights, schedule, pricing »
* Live jazz on all cruises in keeping with current Orleans Parish performance guidelines.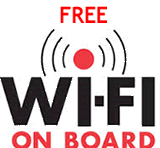 Cruises begin and end at the Steamboat NATCHEZ Lighthouse Ticket Office, located at Toulouse Street and the Mississippi River, just one block from Jackson Square in the French Quarter (GPS address used for GPS purposes only is 400 Toulouse Street, New Orleans, LA, 70130).
We sail rain or shine. In the event of severe weather, unfavorable river conditions (including river closures), breakdowns or any other cause beyond the control of the New Orleans Steamboat Company the vessel is determined by the Captain unable to make the cruise as scheduled we will arrange for a dockside event.
There are times that a cruise may be delayed, but that is usually only for a short amount of time.
Periodically, Steamboat NATCHEZ may be out of service, during this time cruises will take place on her sister vessel - the Riverboat CITY of NEW ORLEANS. In turn, the Riverboat CITY of NEW ORLEANS cruises may take place on her sister vessel - the Steamboat NATCHEZ when necessary without prior announcement
Refunds will not be issued for the above conditions.
PUBLIC NOTICE: Photography & Filming. Please note that cruises are sometimes filmed and photographs taken for the purpose of producing future online materials for the New Orleans Steamboat Company or City Tourism promotions. Your boarding of these vessels will serve as your voluntary acceptance to appear in any video and/or photography content. Any commercial Professional Film or Photography Company may approach you for a release should they be filming aboard.
Daytime Jazz Cruise schedule »Dinner Jazz Cruise schedule »Sunday Jazz Brunch Cruise schedule »